Dozens of people have been injured in violent clashes in East Jerusalem between far-right Jewish activists, Palestinians and Israeli police.
Hundreds of ultranationalist Jews shouting "Death to Arabs" confronted Palestinian demonstrators at the city's Damascus Gate late on Thursday.
The police, who were trying to keep the two groups apart, used stun grenades and tear gas against the protesters, some of whom threw stones and bottles.
A number of people were arrested.
The Palestinian Red Crescent said at least 100 Palestinians were injured, including 21 who needed hospital treatment.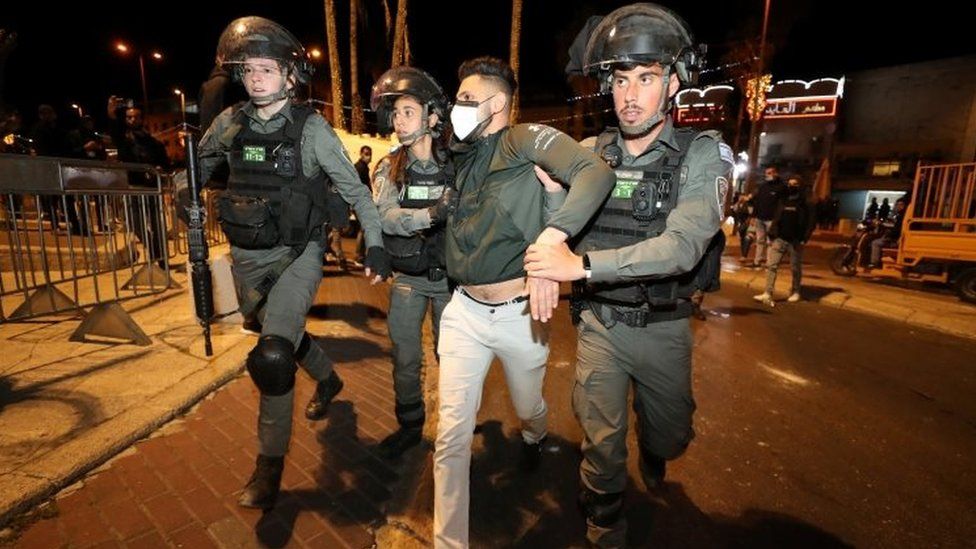 Tensions have been rising for several days.
On Thursday, Palestinians accused the police of trying to prevent them from holding their usual Ramadan evening gatherings outside Damascus Gate, an historic landmark of Jerusalem's walled Old City.
The police warned they would "act firmly against violence and riots of all kinds", a police spokesman was quoted as saying by Reuters news agency.
The status of Jerusalem goes to the heart of Israel's conflict with the Palestinians.
The city is home to key religious sites sacred to Judaism, Islam and Christianity, especially in East Jerusalem.
Israel occupied the sector, previously occupied by Jordan, in the 1967 Middle East war and regards the entire city as its indivisible capital.
The Palestinians claim East Jerusalem as the capital of a future state, and its final status is meant to be the subject of future negotiations.